MAP Training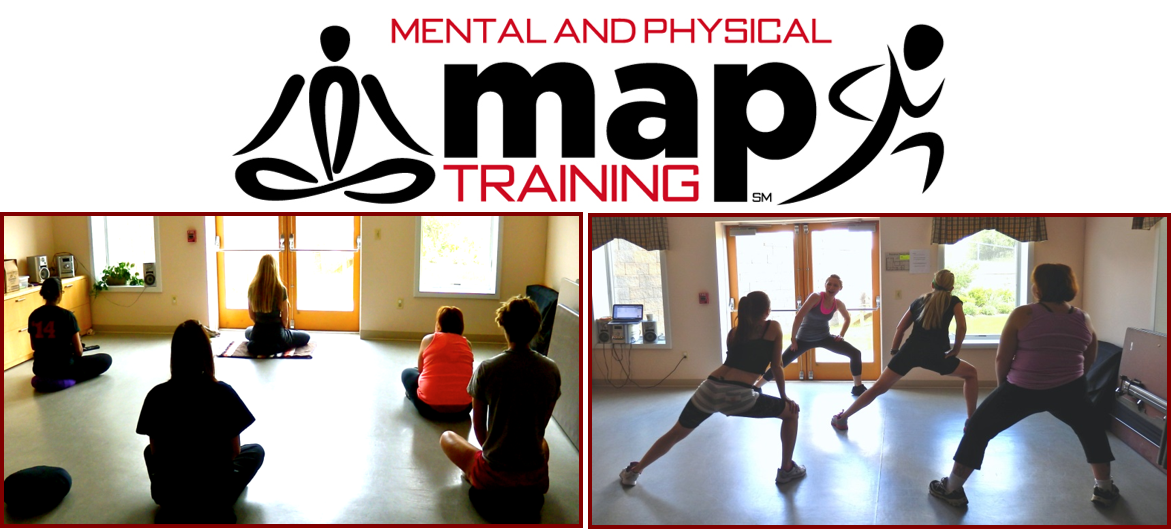 Neuroscientists at Rutgers University have developed a clinical intervention known as MAP Training, which stands for mental and physical training. The intervention is the first of its kind to combine silent meditation with aerobic exercise. The research team is led by Drs. Tracey Shors and Brandon Alderman, and facilitated by Ryan Olson, Michelle Chang, CJ Brush, Emma Millon and others, including Zen monks from Soshimsa Zen Center. Each session of MAP training begins with 20 minutes of silent sitting meditation during which participants learn to follow their breath, followed by 10 minutes of silent walking meditation. The session ends with 30 minutes of aerobic exercise at a moderate intensity. MAP training is provided twice a week for 8 weeks (16 total sessions). Brain health and physical fitness, as well as psychological examinations are given before and after the training program.
| | |
| --- | --- |
| | We have already completed two clinical studies with MAP training. In the first, MAP Training was provided to students on campus with unipolar depression and otherwise healthy students. After 8 weeks of MAP training, the participants were less depressed. Indeed, scores on Beck Depression Inventory (BDI) decreased 40% in the depressed students! These scores were also significantly decreased in the "healthy" controls. We also documented significant increases in synchronized brain activity during conflict monitoring, a sign of healthy neuronal responses to challenging training conditions. The participants were also less likely to ruminate about the past, a tendency that often occurs in individuals with depression as well as those who have experienced trauma. |
| | |
| --- | --- |
| Together, these data indicate that MAP Training has mind and whole body benefits that translate into an overall increase in health and well-being. Of course, we already know that exercise and meditation can enhance measures of mental and physical health, but to be truly transformational, interventions must provide the individual with greater self-regulation capacity and skills that will be used to engage in more healthy behaviors in the future when presented with stressful and unhealthy choices. This is particularly true for women with a history of traumatic experiences. Because MAP Training is so effective, our goal is to provide and disseminate this novel approach to more and wider groups of vulnerable women in our communities and to sustain delivery to those who are currently benefiting from their participation in the MAP Training program. | |
Specifically, our goal is to disseminate and provide MAP Training to 3 populations of vulnerable women. The first group includes the young women from our community who were recently homeless and currently reside at the Center for Great Expectations with their children, including adolescent mothers with mental illnesses. The second group of participants includes women who have been diagnosed with severe mental illnesses, including bipolar disorder and schizophrenia. These women are receiving out-patient or partial hospital-level care and treatment at Rutgers University Behavioral Health Care clinics in South Brunswick, New Brunswick and Piscataway. Importantly, most of these women are the initial providers of safety and healthcare to their young children. The third group include women are students on the Rutgers University campus, who have a history of sexual abuse and/or trauma.
We have already established a successful investigative team, including collaboration with Rutgers University Mental Health Services (RU-CAPS), which will optimize student recruitment and establish early stages of intervention fidelity. We are further supported by meditation training from the Soshimsa Zen Center and access to Rutgers Recreational Facilities. Through these efforts, MAP training will be widely accessible and disseminated to women who have experienced sexual and social trauma across the Rutgers University campuses and into the surrounding communities. In the process, we will collect health outcomes before and after MAP Training, In this way, we can also identify the critical brain and body mechanisms through which positive changes occur. With this novel clinical intervention, our team is poised to make a difference in women's lives and the lives of their children, breaking the cycle of neglect and abuse that is so often transferred through generations.
Rutgers Today documented the study in a video, that is uploaded on their YouTube page: